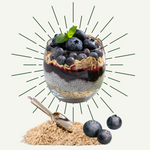 If you have a sweet tooth early in the day, you are going to love this light, flavorful, and nutritious breakfast treat. 
They say breakfast is the most important meal of the day, but what most people fail to acknowledge is that the heavier you eat, the more energy it takes your body to digest. This leads to mid-day fatigue, and day dreams about taking a nap in the middle of a busy day. 
It is important to preserve your energy for the most demanding and productive time of the day. If you want to stay alert, full, and satisfied, this quick breakfast is for you. 
BLUEBERRY CHIA SEED PUDDING PARFAIT 
👉🏼 1 cup of your choice of milk
👉🏼 1/4 cup of chia seeds
👉🏼  Granola
👉🏼 Hand full of blueberries (fresh, or caramelized)

Pour chia seeds in the cup of milk, let absorb until it becomes a pudding consistency (you can prepare this step the night before)
Add blueberries, granola, cinnamon, and any other toppings of preference!  
Enjoy and have an amazing day!