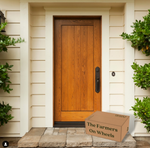 Having the convenience of home grocery delivery paired with the quality, nutritious items included in fresh vegetable boxes is wonderful. Families that don't have access to local farmer's markets or want more of a selection can use online farmer's markets that offer home delivery. The Farmers On Wheels connects small family farmers with hungry consumers that want farm-raised vegetables delivered to their door. People love having fresh, high-quality vegetables delivered from the farm to their homes.
Makes Eating Healthy Easier
Farm-to-door produce delivery is one of the fastest-growing markets. Having direct access to fresh, seasonal produce gives consumers a big advantage. You don't have to settle for chemical-coated produce your delivery service chose for you. If you can't choose your vegetables in person, having reliable home delivery of nutritious, ripe veggies is a huge relief. You know that you are getting quality vegetables when you choose farm-to-door vegetable delivery.
Convenience of Delivery
Most of the younger generation seems to prefer online shopping to doing it in person. They prefer to dine and entertain at home more than going out. Getting groceries without having to physically go to the store is the appeal of vegetable delivery services. Unfortunately, they usually end up sacrificing quality for the sake of convenience. Consumers love fast, free home delivery. The Farmers On Wheels offers superior vegetables than the minimal selection that chain delivery services and supermarkets have to offer. 
Demand for Fresher Produce
Families have busy schedules and choosing nutritional, delicious foods can be difficult. Having fresh, ready-to-eat produce on hand can be a big help when you're scrambling to get dinner together. Finding produce that's in season when you need it is easy when it's delivered to your doorstep. People want organic produce that has been grown by small family farmers. Healthier options are important for families. Produce delivery meets that demand, shortens the supply chain, and offers more food choices. Having vegetables delivered without worrying about their freshness is a relief. 
Help Producers and Communities
When you choose to order your vegetables from a produce delivery service like The Farmers On Wheels, you are helping support small farmers, communities, and the environment. Farmers use far less packaging than big chain stores, helping reduce waste. Small farmers rely on successfully selling their harvest to make enough revenue to sustain a healthy business and support their families. This also helps the economy in their local community. 
Health Benefits
There are greater health benefits from quality, farm-fresh vegetables. They have better flavors and textures than anything from a supermarket. Many vegetables can reduce the risk of developing certain diseases when eaten often enough. Eating fresh vegetables can help people live longer, healthier lives. You want a produce delivery service that you can trust. Fresh vegetables are part of a well-balanced diet. They offer the essential vitamins, minerals, and fiber that are important to your overall health. Vegetables can lower blood pressure, risk of stroke, and can help the body regulate blood sugar naturally. Order a vegetable box for your family from
The Farmers On Wheels
today.