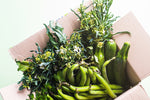 Always having healthy snacks on hand is easier said than done. When you're at work and the vending machines are your only option, produce delivery can be a lifesaver. When you get home you want a variety of quality products without having to search all over town to get what you want. If you don't have access to local growers or markets or maybe no time to go shop at them, online farmers market The Farmers On Wheels can deliver a quality vegetable box to your home or workplace. Let's talk about some of the vegetables they have to offer. 
Higher Quality Vegetables
Organic produce helps fight food waste. Buying groceries that are sustainably sourced is important. Having a vegetable box delivered offers a variety of quality, nutritious foods you will want to try. These items are farm-fresh, natural, and delicious. You can't get your food much fresher than with farm-to-door produce delivery. Larger food delivery services are having trouble keeping up with the demand. Consumers can rely on The Farmers On Wheels to bring fresh veggies right to their office or doorstep. Buying food that is in season has more freshness and flavor. Buying what's in season also tends to cost less. 
Support Small Producers
Supporting small food growers and family farms is important. The strains that have been put on family farms over the past couple of years are immense. They need new ways to create revenue. With The Farmers On Wheels, these growers are connected with customers that want to buy their veggies. Supporting local growers is important to keep their businesses thriving. When you order your vegetable box straight from the source, you know the quality and safety control will be much better than when you order from a large chain delivery service. Your vegetables are touched by fewer sets of hands on their way to you. 
Try Something Different 
If you have a vegetable assortment delivered to your office, you can share items that you have a surplus of with co-workers. You can ask if anyone has any good ideas or recipes that you could try. You might end up finding a vegetable that you love in a delivered vegetable assortment. The Farmers On Wheels partners with growers to bring you nutritional items you may not see in your area. It will encourage you to make new recipes and try vegetables you may not have chosen for yourself individually. Making the most of the items you receive in a vegetable box is half of the fun. 
Convenience
The convenience of having a home or work vegetable box delivery option is amazing. Some of us are too busy with work or other obligations to make it to organic or local farmer's markets as often as we would like to. Having your fresh vegetable assortment brought to a convenient location is wonderful. You can have all of the benefits of farm-fresh veggies without the hassle. Check out The Farmers On Wheels today, they will have a nutritious vegetable box on its way to your home or workplace in no time!