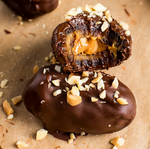 Halloween is the time for fun, silliness, and spooky-themed snacks. There are sweets and treats everywhere, some just aren't so healthy. Fun Halloween snacks don't have to be unhealthy and full of sugar. There are lots of interesting fruits and vegetables you can use to make delicious, creative Halloween treats that don't make you feel guilty. You don't have to serve sugary candy, cakes, and cookies. Use colorful produce items to tweak those classic recipes. Create healthy alternatives to sugary sweets by using fruit and vegetables as a substitute when possible. Let's check out a few ways you can make fun Halloween snacks that are more nutritious for your family and friends. 
Decorate Clear Cups
Any colorful fruit or veggie can be sliced up or piled into a clear serving cup to create beautiful color. You can use a permanent marker to turn each one into an interesting face or Halloween creature. Draw a jack o' lantern face on the side of a cup of orange wedges or carrot slices to make it look like a little pumpkin. You could draw a face and a few little scars on the side of the cup of grapes to create a little Frankenstein effect. This can be a good way to encourage the kids to try new vegetables. 
Creative Cuts
You can turn orange bell peppers into jack o lanterns and green ones into goblins. Making stuffed peppers can turn into giggle time with a little creativity. Cut little holes for the eyes and a mouth into the side of each pepper. Let the stuffing spill out of the "mouth" cut of each pepper to create a funny effect that will make the kids laugh and still taste great. Quarter an apple, then cut a smaller wedge vertically out of the center of each one to make them look like open mouths. Use cream cheese or peanut butter to affix a strawberry slice to look like a tongue. Press almond slices into the apple to look like little teeth.  
Spooky Arrangements
A simple fruit or veggie plate can be turned into a frightful character with a little effort. A round platter can be used to create a fruit jack o lantern. Arrange a selection of nutritious fruits to make a sweet Halloween treat. Cover the platter with orange wedges. Add piles of blueberries, strawberries, and grapes to create eyes and a mouth. A veggie plate can become a skeleton. Bell pepper slices, carrot and celery sticks, mushrooms, broccoli and more can be arranged to create a skeleton. Start with a bowl of veggie dip for a face and get creative. 
Healthy Substitutes
Pureed vegetables can be added to pancake mix for nutritional value and to create creepy colors and unique flavors. Throw in some spinach for monster green cupcakes. 
Substituting vegetables, fruit, and other ingredients for fattening or sugary ingredients in your baked goods helps make your seasonal treats healthier for your family. Applesauce and mashed bananas or avocados can be used to replace butter. Order an assortment of items from The Farmers On Wheels today and get the fresh, colorful produce you need to start making some of these fun Halloween snacks.