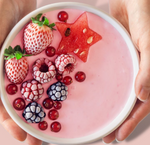 As parents, we are always trying to find new ways to get our children to eat healthy foods. We have busy lives and it can be difficult to plan three healthy meals a day for everyone. There are lots of easy ways to sneak fruits and vegetables into your child's lunchbox. Let's talk about some fun ideas your kids will love without even realizing their nutritional value. 
Pasta Salads
Pasta salad can be made in large batches and keeps well. You can use various fun noodle shapes and change up dressings and ingredients to keep it interesting. You can make pasta salads with hummus or spinach. Corn, peas, and beans all make nice additions. Pasta salad is a great way to sneak in some extra veggies.
Dips
Kids love being able to dip their food. Dips just make snacking more fun. Find a veggie-packed ranch dressing or veggie dip to send with their usual carrots or celery. You can finely chop carrots and cucumber into a low-fat dressing to add some extra vegetables. Peanut butter is a great source of protein and can give cut-up veggies or apple slices more appeal. 
Wraps
Rolling up a sandwich wrap is a good way to hide veggies. They can be colorful and flavorful. Fill it up with meat, vegetables, and cheeses your child likes, and roll it up. Sandwich wraps are filling and can be cut into thick slices for easier handling and eating. 
Fruit and Veggie Chips
Dried fruits and vegetables are a delicious alternative to potato chips and other fattening junk foods. Sweet potato or zucchini slices can be roasted or dehydrated as a healthy alternative to fried chips. Banana slices make excellent little crisps when they're dried. Apricots, prunes, and raisins all make excellent dried snacks. 
Smoothies
Kids love smoothies for their fun colors and unique flavors. Choose your kiddo's favorite color and make a smoothie to match. You can sneak lots of veggies into a smoothie. Try to use more fruits and vegetables they like the taste of to mask the other ingredients like greens that you might add to the mixture. 
Sneaky Desserts
Bake some cupcakes that have veggies snuck in the batter. You can cut the sugar or use healthy alternatives like honey or agave when making them yourself. Replace oil with applesauce in recipes. Sneak in shredded carrots or zucchini when possible. They bake well and are flavorful. Use whole grain flour when you can. Using fruits and vegetables adds fiber and flavor. 
Finger Sandwiches
Cut-up, cute little sandwiches with fruit or veggies added for color may get your child eating healthy. Peanut butter banana or cream cheese with cucumber are two popular options you can try. Asparagus, mandarin oranges, olives, and tomatoes are all commonly used to make finger sandwiches. 
Sneak in the Good Stuff
If you need some fresh ideas for your child's school lunch box, try some of these. You can find fun ways to make lunch fun and incorporate healthy fruits and vegetables in the process. Get started now with a produce order from
The Farmers On Wheels
. Make your kiddo a nutritious lunch that they will love!