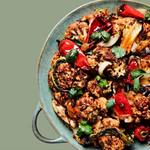 Autumn is a time for warming up the kitchen to take off the chill. It's the perfect time to get your pots simmering and start making those hearty soups, stews, and chili we have all been missing during the warmer months. Enjoy the season's offerings while they last, try some of these fun fall recipes where produce is the star of the show. Apples, pumpkins, pears, sweet potatoes, cauliflower, and winter squash are all popular fall produce items. You can make interesting, flavorful dishes using fresh, in-season fruits and vegetables. 
1. Apple Berry Pie
9" double-crust pie pastry 

2 cups blackberries

2 cups apples (peeled, sliced)

1 cup white sugar

½ teaspoon cinnamon

4 teaspoons tapioca

2 tablespoons cold butter, cut into pieces
Preheat your oven to 375 degrees. Roll out one crust and press into the pie plate and set the top crust aside. 

Mix sugar, cinnamon, and tapioca in a large bowl. Gently toss with the apple slices and blueberries to combine without smashing the fruit. Let stand 30 minutes. 

Spoon your filling mixture into your pastry-filled pan. Dot with pieces of butter. Moisten the edges of the pastry with water. Top with the second crust, crimp and trim the edges. Cut a few slits in the top for venting. 

Bake 25 minutes with foil covering the edges of the pie to prevent over-browning, remove foil and continue baking for 20-25 minutes longer. 
2. Potato Soup
2# russet potatoes peeled and diced

3 cups milk

4 tablespoons butter

Salt and pepper

water
Cover potatoes with water in a large pot.

Cook on medium heat for about 20 minutes until tender. Drain. 

Add butter and milk to potatoes. Put back on medium heat until simmering around the edges for about ten minutes. 

Salt and pepper to taste and serve. 
3. Sweet Potato Casserole
6 large sweet potatoes peeled and cut up

2 tablespoons cinnamon

1 cup sugar

1/2 cup brown sugar

Miniature marshmallows
Put sweet potatoes in a large pot and cover them with water. Bring to a boil, then simmer for about 20 minutes. Drain. 

Grease a deep casserole pan. Preheat your oven to 375 degrees. 

Mash the sweet potatoes smooth then stir in sugars, butter, and cinnamon. Pour into the casserole dish. Top with a layer of marshmallows. 

Bake for about 30 minutes or until marshmallows are browned. 
4. Eggplant Bake
1 large eggplant

1 cup panko

6 tablespoons butter

¼ cup parmesan cheese

½ teaspoon Italian seasoning

½ teaspoon garlic powder
Wash, trim and slice the eggplant into slices about ½ inch thick. Sprinkle with salt and let stand. 

Preheat the oven to 400 degrees. Melt butter in one bowl and the spices, panko, and parmesan in another. 

Dip each slice into the butter then the breading mixture. Place on a foil-lined baking sheet. 

Bake for 15 minutes, flip each slice, then bake for about 6 more minutes until crisp and golden. 
5. Hearty Vegetable Stew
1 tablespoon oil

1 large onion (chopped)

2 large garlic cloves

Salt and pepper

8 cups of assorted root vegetables (parsnips, squash, potatoes)

2 tablespoons Italian seasoning

2 tbsp starch

2 cups vegetable broth

1 cup peas

1 cup sliced brussels sprouts
Wash, trim, peel, and chop your produce. 

Heat oil in a large pot. Cook onion and garlic, stirring about five minutes, add chopped vegetables, seasoning, and cook and stir 5 more minutes. 

Add starch and stir to combine.

Add broth and stir. Bring to a boil. Then cover and simmer gently for about 20 minutes. 

Add the peas and brussels in the last ten minutes. The stew will thicken as it cooks. 
Get your fall produce favorites from
The Farmers On Wheels
. Break into your Autumn cooking routine with a produce assortment delivered right to your door. There are plenty of great recipes to help you use what's fresh and in season. You don't have to cook the same things over and over. Try some of these great fall dishes today and start making healthy and delicious meals for your family.