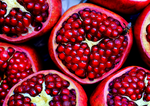 Most of the fruits and vegetables consumed in the United States are grown in California, over 75% in fact. The fruits and vegetables available to you in your local grocery store probably align with the growing seasons in California. You can check into local produce by season, but there is usually less variety. Let's talk about five of the best seasonal California produce items you have to try. They're all delicious, try adding one of these healthy produce items to your family's dinner menu tonight. 
Chickpeas
Garbanzo beans, or chickpeas, are an annual crop that is cool-season. Chickpeas are planted in late Winter and are usually grown in the Central Valley. Fresh chickpeas are in season mid to late Spring. They are much fuller and richer tasting than dried or canned ones. This high fiber superfood helps keep you full longer. Chickpeas can be used for pasta, salads, or whipped into hummus as a quick appetizer. Dried and canned chickpeas are available all year. 
Huckleberries
The late summer sun heats up the hills and the wild berries start to ripen. Mid to late August is the peak season for harvesting huckleberries. They are like small blueberries in a way, red to dark purple and round. They have a sweet-tart flavor that is popular in jam and pie-making. Huckleberries can be difficult to find, be careful not to mistake a toxic variety for an edible one. Edible berries should have a crown at their tip just like a blueberry. Baking a wild huckleberry tart is a sweet summer treat. 
Morels
Morels are an elusive wild mushroom variety. In moist, warm spring weather they can be found along hiking trails. These usually only grow once a year during peak conditions. The season really depends on temperature and moisture reaching perfect conditions. The rest of the time the fungus is hiding throughout soil or deteriorating wood as a thin, white thread called mycelium. These mushrooms are rare but can usually be obtained during mid to late spring. They can be sauteed, pan-fried, or added to a pasta dish for a rich, unique flavor. 
Persimmons
Persimmons are widely available all over California from late September through December. There are several varieties with unique textures and flavors. Hachiya and Fuyu are two of the most common varieties. They are stout and round. Fuyu persimmons are easy to maintain and grow. They are also the best tasting with less acid than other types. Hachiya persimmons are sweet when ripe but have an acidic sour note. They are more oblong-shaped than the Fuyu variety. 
Sunchokes
Sunchokes don't taste like artichokes at all. They have a nutty, sweet flavor. They are a root vegetable from the sunflower family. They are in season from late fall to early spring. They have a delicious, creamy potato texture when cooked. Sunchokes can be roasted, mashed, fried, or enjoyed on a pizza. They are a healthier alternative to potatoes. They are iron-rich and contain B1 and potassium, much better than fattening potatoes. 
There are so many great California seasonal produce items available. Try to incorporate some of these fresh produce items and healthy alternatives into your family's weekly meal plan. Follow the growing seasons and see what produce items are available to spruce up your old recipes. Put some fresh produce on the table. Visit The Farmers On Wheels to find your fresh, in-season California produce and have something new delivered to your door.