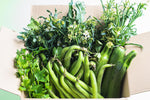 Home delivery of farm-fresh produce is steadily growing in popularity with hungry consumers everywhere. People want quality food for their families delivered to their homes. Obtaining fresh food from local growers that use fewer resources and less packaging helps the planet. It is important to support local growth and sustainability while buying from the most trusted food sources available. 
Convenient food doesn't have to be unhealthy. Having assortments of produce delivered to your home saves you time at the market without sacrificing quality. You don't want your family reaching for junk food because you don't have anything healthy to offer. Families like being able to place an order for their groceries with a few simple clicks and simply wait for them to arrive. Ensuring that your home's snack inventory includes a variety of healthy fruits and vegetables can be tough when you aren't there in person to inspect and choose each piece.
The demand for local produce delivery services is high. It's a great way to buy fresh goods straight from local farms. Community-supported agriculture programs offer the public portions of participating farmers' harvests and farm products throughout the season in exchange for a subscription fee. These CSA shares are great for families and even restaurants that enjoy incorporating a variety of fresh, seasonal items in their meal planning. It's exciting to open your CSA box and find out what assortment the growers have to offer each week.
Small farms are adapting to what customers want. People enjoy the convenience of having their groceries delivered. There is less enthusiasm about the selection of certain fruits and vegetables that popular grocery delivery chains offer. Farmers want more people to have access to quality items. Finding a steady market for their products is important to make more profit and prevent waste. The Farmers On Wheels helps farmers get their products directly to consumers that crave freshness and variety.
Having the quality and variety of a local farmer's market available for online ordering and home delivery makes finding healthy food for your family a breeze. Busy schedules and overlapping events could be interfering with your ability to make it out to the local market to find the best fruits and vegetables available in your area. Try subscribing to a local community-supported agriculture program or find a good online farmer's market and place an order. Many families have shifted to online ordering over the past year. 
Farm fresh delivery options are building steam. People want reliable, local food sources paired with the convenience of a home grocery delivery service. Problems with our food supply and delivery chain have caused uncertainty for many Americans lately. Buying locally keeps your money within the community and ensures that you know where your food was grown. Having confidence that you can get safe food from a trusted source is important. Farmers struggle to find the best ways to market their farm-fresh food to the customers that need it. Farm to home delivery services are giving small family farms a new way to thrive.