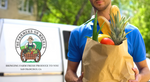 Most of the big chain stores have started to offer their customers online grocery shopping and delivery services. It has become so convenient to just click on items to add them to your virtual shopping cart and pay online. This shopping cart never gets full and you can always see what's in the bottom of it. You can review your list of purchases to be sure you didn't forget anything on the list. You can see how much you're spending before you check out. This might help you stick to the list and avoid last minute impulse buys. 
It Eliminates The Hassle
There is no cashier or person waiting in line behind you to be inconvenienced if you want to know the price of an item, or just decide to put something back. If you forgot to buy something you can add it to your order from your phone or computer instead of driving to a store. Then you simply wait for them to arrive at your doorstep. You don't ever have to leave the house. 
This saves time and hassle. It frees the customer from pushing a cart and maneuvering through the aisles to find what you need. You don't have to wait your turn or watch the cashier scan everything. There's no loading it all into the car then lugging it up to the door. These delivery services just make getting groceries effortless. 
Delivery Apps and Websites Make Ordering Easy
Delivery apps that allow you to place an order for delivery are becoming very popular as well. The pandemic made delivery the only option for some. Everyone was avoiding stores so grocery delivery services had to kick into high gear. Many older Americans have caught on to online ordering and delivery services. 
Shoppers that work for some of these delivery companies must buy items in nearby stores for their orders. Then they assemble and deliver the order to the customer. Many stores and shoppers take notice when grocery delivery service employees are trying to find enough items to fill all of their orders. They're trying to find everything on their list to be sure it gets where it needs to go for the day.
Delivery Is Convenient
Some people simply choose not to go to stores. Maybe they don't enjoy going grocery shopping. Some people are too busy to make time for trips to get groceries. Delivery services are there to save time and do it for them. If you like the ease and convenience of ordering from home, delivery services answer the call. 
As long as you don't mind an item being substituted for what you ordered once in a while, delivery can save you a lot of time. You can easily check the nutrition information  If you have groceries delivered, you don't have to get ready for a trip to the grocery store and drive there. Delivery services do all the work for a small fee.