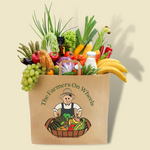 More people are using home grocery delivery services than ever. Many companies offer fast, free delivery service. People want fresh food options. You can't get quality local produce from those popular big business grocery delivery services. Families want food that's grown the all-natural way. When you like the convenience of online ordering and food delivery, being able to get farm-fresh produce delivered is a nice option.
Grocery Delivery Services
Local grocery stores and delivery services don't usually carry the best produce. Their apples are covered with preservatives, the tomatoes are hard and tasteless, and they just don't taste as good as fresh. You also pay higher prices for expensive packaging and popular brand names in supermarkets. Many of these items are picked before they're even at their peak to withstand shipping times. Sometimes produce starts to spoil before it even hits the shelf if it's not packed, stored, and shipped with care.  
People that buy locally sourced food help their local economy and support small farms at the same time. When you buy food from local small producers that money stays in your community. You also help cut down on the cost and pollution associated with transportation when your food doesn't have to travel as far to get to you. Produce is fragile. It's at its best just after harvest. When you have local produce delivered you know that it will come straight from the farm to your plate. 
Farmer's Markets Closed
Farmer's markets have been closed so shoppers have had to find other ways to get their locally grown fruit and vegetables. Small producers have had to turn to online marketing to get their products to consumers. Home grocery delivery is very popular and people want healthy options. It's good to know where your food comes from. When your produce is locally grown you know exactly where it's been before it arrives on your doorstep. 
Locally Grown Produce
Locally grown produce is better for you. There are fewer preservatives and chemicals associated with growing. Smaller crops mean better quality fruits and vegetables. The longer it takes for you to get your fruits and veggies from farm to table, the less nutritional value they have. When you have your produce delivered you get it as quickly as possible right from the source. That's about as fresh as it gets unless you pick it from the garden yourself.
Local produce delivery companies offer healthy options that you can order from your smartphone. You don't have to hunt for fresh, local produce anymore. It's right at your fingertips. Take a look at some online farmer's markets and have a box of high-quality produce delivered to your door. You might discover that it is far more delicious than anything you could find in a grocery store. You don't have to miss out on the finest foods from local growers. Find a farmer's market that delivers, so you can reap the full benefits of eating healthy produce from local farms without ever leaving the house.