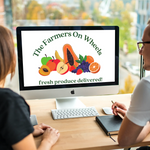 Online food delivery sales are growing rapidly. The market is expected to grow to $120 billion over the next 5 years. Average storage capacity for perishable produce in a supermarket is about 1 day's worth. That supply usually comes from fast-growing varieties that can be grown easily in large quantities and imported. People want more reliable food sources with better quality produce. Consumers also love the convenience of home grocery delivery. 
Food Delivery is Growing
Most millennials prefer to stay in for meals and entertainment. They prioritize convenience even over quality at times. Delivery is a great option for getting their groceries. Local produce delivery services offer better products than you get from chain delivery services and supermarkets.
Large-scale delivery giants have been overwhelmed with new orders this past year. Customers love fast free delivery. Millions of families are choosing to have fresh produce boxes delivered to their homes. COVID has rapidly accelerated this new growth. Online ordering skyrocketed after stay-at-home orders were put in place. 
People Want Produce
People have been spending more time in the kitchen and they want fresher produce. Searches for food delivery are at an all-time high. The pandemic also put a strain on grocery stores when supply chains were disrupted. This crisis has made us all reexamine how we get our food. Making supply chains shorter has become even more important. 
Americans want healthier options. Vegan, organic, gluten-free, and ethically sourced foods are all highly sought after. Produce delivery is a convenient way to meet those demands. It brings farm-fresh fruits and vegetables right to your doorstep. Online farmer's markets are giving us more food choices and an easy way to get them to our table. 
Produce delivery services make us less reliant on specific stores. Most produce in grocery stores comes from cheap, international sources. We can't be sure that we can rely on imports. Production and transport issues can cause major problems in the supply chain. 
Online marketplaces match growers that have a surplus with customers in need. Local systems help support our sustainable local farms. Online markets that offer produce delivery services make it easier to get products from growers to families. Setting up regular produce box delivery subscriptions ensures you have fresh, healthy food on a regular basis and also helps reduce waste during distribution. 
Some shoppers are leery of delivery produce. They would rather examine their fruits and vegetables in person. Almost half of shoppers say they buy their produce in person. Being able to purchase high-quality fruits and vegetables for delivery without worrying about freshness is reassuring.
If you've decided to start having your family's groceries delivered to the house, try out some produce delivery options. You will get better, fresher fruits and vegetables that are grown by small producers. You can help the environment, local communities, and bring better quality food to your table with produce delivery. Americans are catching on and getting in on these services, making demand for produce delivery continue to climb.