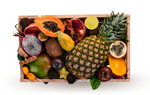 Choosing a meaningful gift for someone can be difficult. When you're shopping for someone who has everything, you can't go wrong with consumables. An exotic fruit box is a nice gesture and a tasty idea for anyone you're thinking of. These specialty fruit items make an ideal gift for any occasion. When someone welcomes a new baby into the world, moves to a new home, or gets a promotion, you could send over an exotic fruit box to surprise them.
These assortments are packed with exciting fruits that they may be seeing and trying for the first time. Opening a gift box to see a giant Asian pear and a dragon fruit among mangoes and other goodies will make a nice impression. Your gift is guaranteed to offer them something delicious and different. If you want to send over some sweet treats that aren't the typical chocolates or a cake, consider an exotic fruit box instead. They will appreciate the adventurous, nutritious gift of unique fruit varieties that they don't come across very often. 
When you want a gift for someone that likes healthy foods and is environmentally conscious, an exotic fruit box would be a thoughtful surprise. Instead of sending them wine or candy that they may see as unnecessary, send them a box of amazing fruit that they can enjoy over the next couple of weeks. They will be able to consume the gift rather than accumulate another wasteful material possession. They will also appreciate the fact that the gift you chose supports sustainable farming and avoids waste and excess packaging.
Exotic fruit boxes bring amazing flavors and variety to the person you're thinking of. These hard-to-find delights are sure to brighten anyone's day. The star fruit, guava, and pear varieties all come ready to eat. The fruits in these boxes are all ripened to perfection and in excellent condition. Different varieties of mangoes, tropical bananas and huge Asian pears are sure to please. These fruits are all harvested and shipped at their peak for taste and freshness. 
These boxes of fruitful nutrition make excellent gifts when you're looking for a quick surprise. There's no browsing, guessing, or finding a good time to meet up to give them the gift. You can simply order and wait for your loved ones to receive their surprise. There's so much variety in an exotic fruit box, you won't have to worry about them not being able to find something they enjoy. These assortments of tropical fruits are excellent. 
Whether you have a picky eater, someone who's hard to buy for, or someone that's far away, an exotic fruit basket is a great gift idea. They're perfect for any occasion. They make great Christmas gifts and are a way to say congratulations when someone makes an accomplishment. They can even be a nice way to express sympathy and send comfort and condolences when someone loses a loved one.
The next time you're scrambling for a gift, try sending an exotic fruit basket. Click here to learn more about our nationwide shipping.