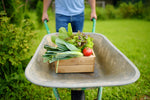 Quarantines and closures have really put a squeeze on local food producers. A majority of these smaller farmers make most of their sales from in-person events like community farmer's markets, festivals, and displays in local stores. These types of sales opportunities have been extremely limited for over a year. This has forced these smaller food producers to find a way to sell their goods online. There is steep competition with the grocery delivery giants to find a way to get their products into people's homes.
The Pandemic & Food Supply
The pandemic turned our food supply system upside down. Many companies were forced to slow production or close for safety. Workers became sick with coronavirus and possible exposures caused other employees to miss work. Production companies have had to adjust packaging and shipping procedures to comply with COVID safety regulations. Americans have been unsure about the food supply and are looking for the best ways to get the food they need.
Stay-at-home orders forced us all to stay at home and only go out for necessities. Experts recommended that people should avoid close contact in public spaces. People were grabbing the essentials and stocking up on things to get by. Americans were unsure about their access to food and what would be available. Shortages and delivery delays left people with limited options. Farmer's markets and other group sales were all canceled to prevent crowds from gathering and spreading the virus.
The Stores Response
Stores have had to limit their number of shoppers in the store at a time because of indoor capacity recommendations. When inside, customers and employees must wear masks and maintain social distancing practices. Lines are much longer than before with people trying to stay as far apart as possible. Cashiers have to take time to sanitize surfaces between customers. People realized they can save time and avoid these inconveniences by having their groceries delivered.  
The products offered by small growers are of better quality than mass-produced imports. Many fruits and vegetables in stores are genetically modified or are treated with pesticides and preservatives. Small farms grow produce that doesn't have to look uniform and has more natural textures and flavors. People want better products, they just don't always have direct access to them. Farmer's Markets online allow people to find the fresh local food that they want and support community growers.
Online Farmers Market
Online farmer's market options are giving small producers a new way to distribute their products. It connects shoppers looking for freshly grown products with farmers that need a market. Consumers can still find the things they have been missing at the farmer's market. They can now find the same farm-fresh food online, place an order, and wait for it to arrive.
COVID has brought a lot of chaos to finding and buying the groceries families need. Access to locally grown produce has been limited and farmers have had a hard time marketing and distributing their goods. Support small farms and food producers by patronizing them online. If you can't go out to shop and find fresh quality produce in person or if you just prefer the convenience of shopping online, check into some online farmer's market options.